BLOG "Thelma and Louise, Tai Chi and Me – Why I love hosting Holistic Holidays!" By Michelle Gupta
19 July 2022 – Michelle Gupta – Tai Chi Instructor and Holistic Therapist – embodyharmony.com
Chi and Tea by the Sea……..
It all started when I went on my first retreat, with my Tai Chi teacher, Jason Chan, to Italy. Ever since I started training as a Tai Chi and Meditation Instructor around 15 years ago, I have simply loved to make exciting and stunning, overseas destinations part of the process. Having been a very passionate traveller since my teens, I have always strived to explore new cultures, food and beautiful surroundings – so it made perfect sense to me to combine my training with travel!
The power of presence………
Once I deepened more and more into the practice of Tai Chi and Meditation and had started teaching my own students in 2010, I realised that the essence of Tai Chi was about embodying the balance, perfect presence and empowering energy found in nature. I could see how being in an inspiring landscape can enrich and connect us to the whole experience in special ways. It can also enhance the sense of being part of something greater than ourselves while becoming more aware of our own uniquness. So a wonderful part of having a purposeful holiday is that you give yourself time to slow down, breathe, relax and rejuvinate while having a fresh and fun experience as you tune-in to the natural rhythms of each new and special location.
How to explain what I mean?
I invite you to think back to the iconic movie Thelma and Louise, for example! Picture the rich red colour of the sand and the mountains against the piercing blue of the sky as they drove through the Utah desert. It was as if their surroundings were a third character accompanying them on their intrepid journey – until they came to the "end of the road" at the dusty Grand Canyon! The backdrop added so much richness and depth to their adventure and it is the same when practicing Tai Chi, Chi Kung, Yoga and Meditation!
Fun fact – Thelma and Louise have another significance for me too – last year (2021) I had both hips replaced and nicknamed my new ones, Thelma and Louise! My Tai Chi and Chi Kung practices have been invaluable to aiding recovery both my new 'girls'!!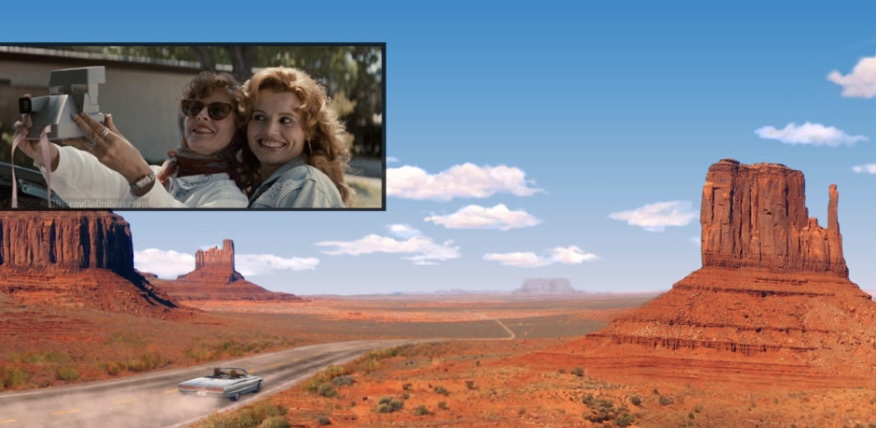 The perfect ingredients………
All of these unique places enriched our practice as well as helping us to relax and unwind our body and mind. In addition to a breathtaking back-drop, I consider certain other 'ingredients' to be essential in 'cooking up' a successful holistic holiday! These are fun, food and friendship!
My lovely guests and I enjoy nothing better than a good chat and a giggle over nourishing food with a glass of local wine or a cup of tea! Some of my Tai Chi friends have attended more than one holiday and have let me know that the connections and shared experiences on these trips are very special, memorable and unique and often create lasting friendships too – and I couldn't agree more!
Let me try to sum up the magic that each of these unique destinations added to our experience :
As you can tell, have thoroughly enjoyed facilitating a number of fully-booked Tai Chi and Meditation retreats overseas eg. on a Greek island, in the Indian Himalayas and, last month (June 2022), on the shores of a gigantic freshwater lake in Portugal.
On the Greek Island of Tinos, we 'pushed the ocean wave' by doing our Tai Chi standing in the sea as well as in front of it! We practiced mindful walking on the cliffs with the sounds of the crashing waves and meditated as the sun went down overlooking the Aegean sea. We witnessed pilgrims in the local church hoping to gain solace from the relics of Our Lady and sampled local delicacies and wine.
In Dharamsala, India, we 'waved hands like the clouds' – while literally being up in the clouds – facing the majestic Himalayan peaks! We held Yoga postures while listening to the chants of Buddhist monks and we meditated overlooking the Dharamsala valley and the home of the Dalai Lama. We mingled with monks and monkeys and saw the fusion of Indian and Tibetan cultures in this very special place. And needless to say the local food was simply spectacular and we even had a customised class in Ayurvedic cooking.
ANNOUNCING – I plan to take a group here again in end April 2023 and the 10-day trip will include a visit to sights in Delhi and the Taj Mahal ! Check my website for details coming soon……
In Odemira, Portugal, a 35km lake was our backdrop to our eco-lodge and we soothed our souls by listening to songs of a myriad of birds and felt the lush, cool grass on our bare feet. We practiced our mindful movements surrounded by fragrant herbs and flowers and kayaked in the freshwater lake. We visited a Moorish village with an ancient church which was once a mosque and saw unique birds and wildlife with a local conservationist. And we enjoyed locally grown, organic produce and wines.
In each location I have also included classes from a local Yoga instructor. All of the classes are suitable for beginners and no experience is necessary so everybody is very welcome to join us!
And I would love YOU to join us on the next amazing adventure in Lanzarote, Spain…………
'Meditation, Yoga & Tai Chi Where Volcanoes Meet the Sea!'
ONLY ONE ROOM LEFT!!!
I am delighted and excited to invite you to join me for 5-days and nights of Winter sun in Lanzarote, Spain on 1st-6th October 2022.
This immersive and inspiring trip is going to be FABULOUS!!!
And there's only ONE ROOM LEFT in this gorgeous villa only €647pp sharing (twin) / €847pp single !! See below and click this link for all the delicious details! >>>
https://www.embodyharmony.com/events/meditation-yoga-tai-chi-where-volcanos-meet-the-sea-luxury-villa-lanzarote-spain-1-6-oct-2022/
The price includes the following once you arrive in Lanzarote :
☀️ 5 nights deluxe accommodation. The spectacular, stylish and exclusive "Villa Volcan" located near the sleepy fishing village of Arrieta, is an 20 min walk from the beach with panoramic views of the Atlantic Ocean and a majestic, volcanic backdrop. Not only has the villa got impeccable eco-credentials by being off-grid but it also doesn't skimp on sumptuous style – as you'll see from the photos here and even more on the link above !
🌴 Return airport transfers (30-40 mins drive) with a glass of cava.
🌴A substantial, nutritious brunch each day and a farewell dinner on our last evening – including a paella cookery demonstration with cava, sangria and dessert!
🌴 Daily Tai Chi, Chi Kung and Meditation classes with me plus two yoga classes during our stay given by a local instructor.
☀️ Use of all facilities at the villa incl solar heated pool, outdoor jacuzzi, sun-loungers, pool-table and ping-pong table.
🌴 Free transport to optional excursions & mini adventures/ sights of the island!
I am so pleased to be travelling alongside the owner of our venue (also a Brit called Michelle!) and her team. She and her family have been living and working in Lanzarote for the last 30 years and have built up a team and a portfolio of amazing properties all over the island with style and sustainability always at the fore. Our villa is close to their Eco-Village (5 mins walk) which clearly showcases their love of hosting guests in style but with impeccable eco-credentials too – in support of the beautiful biosphere reserve they call home.
In a recent blog, they posted "we've partnered with sustainable tourism champions, Canary Green, to help promote responsible holidays. At Lanzarote Retreats we believe that life-enhancing travel is not just about seeing a place, but experiencing it, which in turn helps conserve local culture and communities. It's great to collaborate with other organisations that feel the same way." Their team also ran a recent beach clean-up project to maintain the pristine Playa de la Garita (the beach close to our venue).
Meet your facilitator, Michelle Gupta –
Originally from London, Michelle – a Holistic Therapist and Instructor – has been living and teaching in Cork, Ireland since 2010. In addition to running classes and retreats in Ireland and overseas, she is also a Holistic Therapist, specialising in Indian Head Massage and Craniosacral Therapy. She believes in the power of presence and human connection and her mantra is "together let's make health, harmony and happiness a way of life". She can't wait to share 'Chi and Tea' with you soon!!