Date/Time
Date(s) - 14/01/2024
6:00 pm - 8:00 pm
Location
Bru Columbanus
Categories Classes
I'm so excited to invite you to 'breathe and bathe' at my wellness workshops – Sound Bath Sundays!
We enjoyed 6 fully-booked workshops in 2023 and I can't wait to share this energising and soothing ancient tradition with you again at the first Sound Bath Sunday of the New Year!
When: Sunday 14th Jan 2024 6-8pm
Where: Bru Columbanus, Wilton, Cork (nr CUH/ SMA / Wilton Bar).
Cost: ¢35pp includes herbal tea / decaf tea and organic, homemade scones with butter and jam! (I always like to combine Chi and Tea!!).
NB. If you are Gluten Free pls let me know when booking and I'll bring along suitable treats for you!
What to bring: please bring the following if possible – A yoga mat (I will have some spares). And as you'll be lying down for approx 45 mins you'll need padding to lie-on eg. yoga mat(s), camping "mattress", garden-seat cover, as many blankets as you like etc! Plus a cushion/ pillow and water bottle. And please wear comfy, relaxed clothing.
NB. Everyone is very welcome to attend but there are some cases where caution is advised. See bottom of the page for my advice.
Introducing the Sound Bath Singing Bowl Experience!
I have always had an avid interest in sound and how it works – particularly percussion instruments. Having practiced the ancient mindful-arts of Tai Chi and Chi Kung for around 15 years, I am fascinated by the effects of vibrational energy waves on our body, emotions and mind. Having realised how complimentary sound-healing could be to my Tai Chi classes, during a recent visit to Nepal, I took the priceless opportunity to train in the use of Himalayan (often called Tibetan) singing bowls.
The effects and sounds are simply magical and I had great fun playing the bowls during this professional course plus loved learning about their history, uses and benefits. I brought back some beautiful, perfectly tuned bowls – hand crafted near Kathmandu using 7-metals – and am so looking forward to sharing their soothing sounds with you!
What to expect from our evening together………
These workshops are designed to enliven and de-clutter all of your your senses – touch, sight, sound, taste and smell – so you can receive the energising and healing sound-waves not only through your "ears" but via your whole system – inside and out!
A gentle warm up / Chi Kung exercises to release and quietly energise the body and mind
Mindfulness techniques such as Mindful walking and learning how to give yourself an Indian Head massage
Guided meditation
Tea break with homemade, organic, raspberry scones, butter and jam!
Approx 45 minute sound bath – lying down with cosy mats, blankets and supports. In addition to the bowls, I also use a Brazilian rain-stick and a gorgeous gong for sound variety. NB. Lying down is recommended but if you wish to be seated for the Sound Bath this is absolutely fine!
How does sound therapy work?
A Sound Bath is a therapy session where the sounds and resonance of the bowls and bells, along with the intention of the player, have strong therapeutic effects. When the sound begins you will listen as it fills the room and have a sense of time being suspended as you enter a world of vibration, soothing sensation and mindful experience!
All sounds – and infact all life – have an energetic, vibrational quality and certain natural sounds and notes can travel through the body and resonate with the organs, tissues, cells and chakras (energy centres) within it. There are also the positive effects of the melodies found in music and their ability to heal and uplift our emotions as well as bring deep relaxation, harmony and balance (also known as homeostasis) to our mind and body. The therapeutic effects can bring also about healing, stress and pain relief, release stuck energy and tension in the body and can even be catalysts for personal transformation!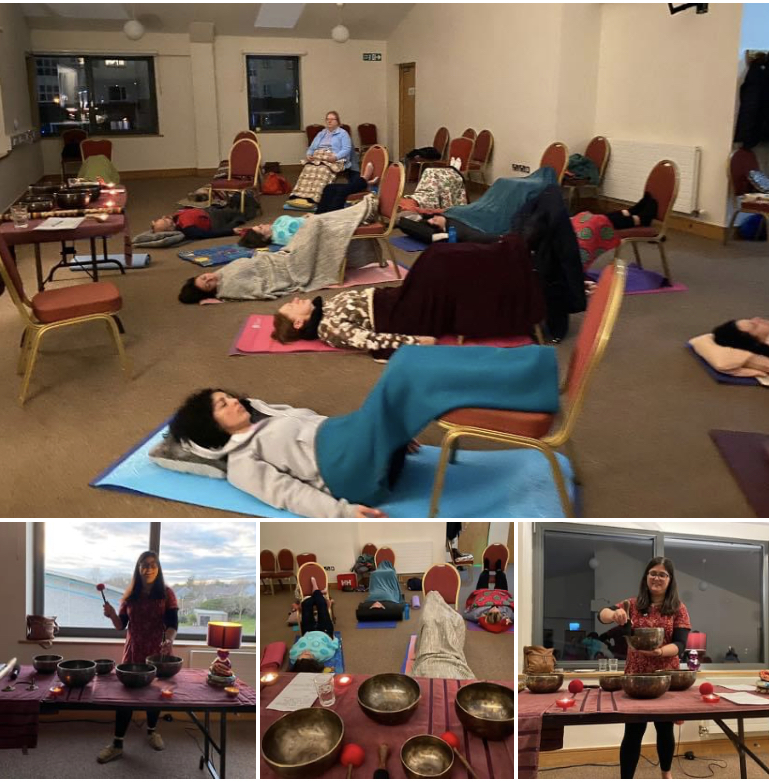 Can anyone attend?
My sound baths are open to everyone, but there are a few situations where they might not be suitable and/or caution is advised. They are:
If you have had metal plates fitted within the last 12 months, the sound can vibrate them, and this can feel uncomfortable – so wait 12 months please.

If you have a pacemaker fitted this event is not suitable for you.

If you are pregnant please wait until after the first trimester/ 3 months.

If you have had major surgery please wait 3 months.

If you have difficulty lying on the floor this event may not be suitable for you as it will not be comfortable / may have difficulty getting up.

Sound healing can bring up emotions so if you are going through a very stressful or challenging time.
Do feel free to call me if you have any queries and would like to discuss the sessions – Michelle 086 878 5212
CANCELLATION POLICY: The event fee ¢35pp is completely non-refundable. If you cannot attend the event and give at least 24 hours notice of cancellation, I can transfer your place to a future Sound Bath evening for a fee of ¢10 (subject to availability). If you cancel with less than 24 hours notice then your place cannot be transferred.
NB. By signing up for my event you agree to subscribe to my monthly email newsletter. As a highly valued client I wish to keep you updated on retreats, classes, events and offers. I send no more than one email per month and you can unsubscribe at any time.
Bookings