Individual Healing & Group Sound Baths
How does Sound Therapy work?
All sounds – and infact all life – have an energetic, vibrational quality and certain natural sounds and notes can travel through the body and resonate with the organs, tissues, cells and chakras (energy centres) within it. There are also the positive effects of the melodies found in music and their ability to heal and uplift our emotions as well as bring deep relaxation, harmony and balance (also known as homeostasis) to our mind and body. The therapeutic effects can bring also about healing, stress and pain relief, release stuck energy and tension in the body and can even be catalysts for personal transformation!
My personal sound journey – I have always had an avid interest in sound and how it works – particularly percussion instruments. Having practiced the ancient mindful-arts of Tai Chi and Chi Kung for around 15 years, I am fascinated by the effects of vibrational energy waves on our body, emotions and mind. Having realised how complimentary sound-healing could be to my Tai Chi classes, during two recent visits to Nepal, I took the priceless opportunity to train in the use of Himalayan (often called Tibetan) singing bowls and am now qualified to hold group events and one-to-one sound therapy sessions.
The effects and sounds are simply magical and I had great fun playing the bowls during this professional course plus loved learning about their history, uses and benefits. I brought back a set beautiful, perfectly tuned bowls plus a fabulous gong! All hand made near Kathmandu from seven metals – and I am so looking forward to sharing their soothing sounds with you!

A ONE-TO-ONE PERSONAL SOUND THERAPY SESSION – at my treatment room in Cork city – goes deeper as I will be placing the bowls directly on your body (fully-clothed on the massage table with cushions and blankets) and you will not only hear the sound much more intensely than in a group / large room but also feel the vibrational qualities moving through your whole system – much like a 'sound massage'. These treatments can be customised to suit your needs and combined with a relaxing head massage, for example. Or just enjoyed as part of your general wellbeing and 'maintanance'!
I look forward to treating you at my comfy and convenient therapy room in the heart of Cork City on Tues/Weds/Thurs afternoons!
To make an appointment pls email embodyharmony@gmail.com or call/text
+353 86 878 5212
.
NB. I wish to respectfully let you know that my therapy room is available to female clients only and I will not be taking any bookings from male clients. Thankyou for your understanding.
Clearing stuck energy (in the body and the Chakras)
Improved energy levels
Super relaxing and reduces stress
Improves sleep
Can aid healing and reduce general aches and pains
Clearer mind / reduces 'brain fog' and improved concentration
Fewer mood swings.
Improved body-balance (homeostasis)
Lower blood pressure.
Lower cholesterol levels.
Better pain management.
Reduced risk of strokes and coronary artery disease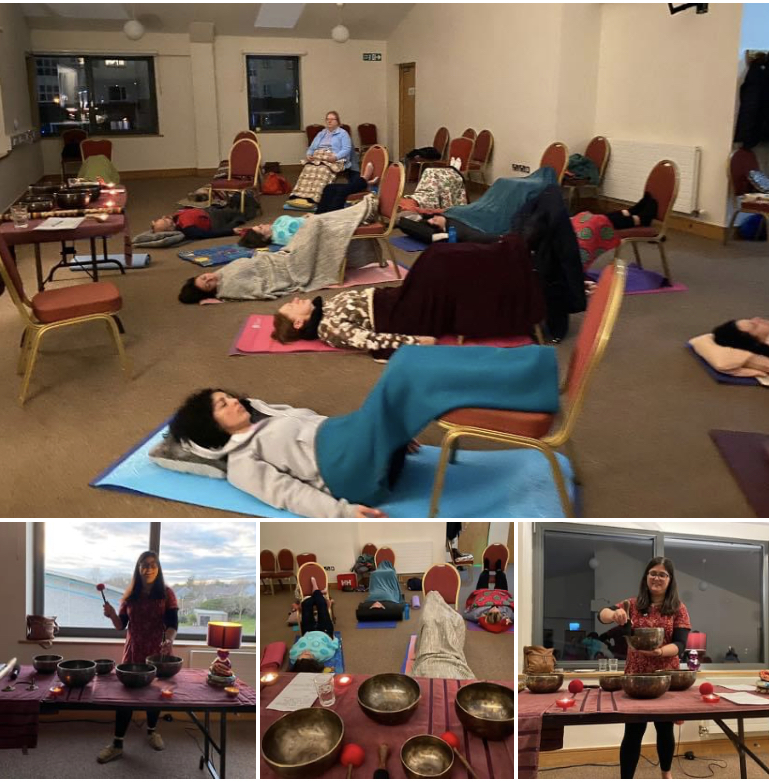 GROUP EVENTS – A SOUND BATH uses the sounds and resonance of the bowls and bells in the room, along with the intention of the player, and they can have strong therapeutic effects. When the sound begins you will listen as it fills the room and have a sense of time being suspended as you enter a world of vibration, soothing sensation and mindful experience! See below for more details and to book your place!
I'm so excited to invite you to 'breathe and bathe' at my wellness workshops – Sound Bath Sundays!
The four workshops held in 2023 so far were all fully-booked. CLICK HERE for details of upcoming Sound Bath Sundays to resume in the early Autumn 2023.
Where: Bru Columbanus, Wilton, Cork (nr CUH/ SMA / Wilton Bar).
Cost: ¢30pp includes herbal tea / decaf tea and gluten-free scones with butter and jam! (I always like to combine Chi and Tea!!).
Introducing the Sound Bath Singing Bowl Experience! What to expect from our evening together………
Just like the individual sessions, these workshops are designed to enliven and de-clutter all of your your senses – touch, sight, sound, taste and smell – so you can receive the energising and healing sound-waves not only through your "ears" but via your whole system – inside and out!
A gentle warm up / Chi Kung exercises to release and quietly energise the body and mind
Mindfulness techniques such as Mindful walking and learning how to give yourself an Indian Head massage
Guided meditation
Tea break with homemade, organic scones, butter and jam!
Approx 45 minute sound bath – lying down with cosy mats, blankets and supports. In addition to the bowls, I also use 'Ting Sha" bells and a Brazilian rain-stick for sound variety…….
Pricing, Location & Booking
All therapy treatments with me cost :
€65 for 60 mins
€85 for 90 mins
Buy a course of any 4 treatments, get 5th FREE!
For your convenience you can pay by card (or cash of course!). Your first treatment will include a full consultation to ensure it meets your specific needs and you can relax and enjoy time just for YOU!
FREE TREATMENT when you buy a course!
BUY A COURSE OF ANY 4 TREATMENTS & GET 5TH COMPLETELY FREE!*
Meaning you can enjoy a free TREATMENT worth up to €85 EURO!
Ready to Get in Touch & Book?
*Terms and Conditions of Course Voucher – BUY 4 GET 5TH FREE VOUCHER: 4x treatments must be pre-paid at full-price (€260 4x 60 mins or €340 4x 90 mins). All vouchers are valid for 3 calendar months from date of purchase. You can choose from ANY of the treatments on offer with me. Free 5th treatment can be claimed as a one-off treatment or the 60 mins can be added to another pre-paid treatment eg. Add 30 mins to 2x 60 min pre-paid treatments. Cancellation policy – at least 24 hours notice must be given if cancelling or amending your appointment or the relevant treatment voucher will be considered as redeemed and used.
***NB. Insurance claims are subject to the specific terms and conditions of your policy. I will provide accredited receipt after your treatment for you to make the claim directly from your insurer.